You have to love them...
whether they come on the most awesome vintage clothing find of the year.
Or they're just the silly kind that make you laugh,
collect things like rocks and pine cones,
and still like to stick that tongue out every now and then.
I'm particularly fond of this little squirrel. Thank you, Jesus, for the blessing of children!
headband: mama-made with a vintage buckle
sweater: vintage thrifted
shoes: stride rite thrifted
Linking up with Mama Loves Papa:
and Hart and Sew: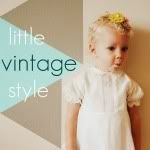 Go check 'em out!